Strata levies and COVID-19
In the midst of the COVID-19 pandemic, the strata sector is facing some big issues. Perhaps the biggest challenge (this week at least) is how to manage body corporate levies and other financial issues at a time when people are under all sorts of financial pressure. It can be hard enough to get people to pay strata levies when they have the money, let alone when they do not.
We think it is essential to identify the pain points for everyone in the sector when it comes to levies and then identify what can be done about it.
There are a few points to make, before anything else:
Even though these times are challenging and like nothing we have seen in our lifetimes, we can't lose sight of humanity and compassion. People are under severe health, financial and emotional stress. Everyone is suffering in some way. Displaying empathy will hold everyone in good stead.
While the body corporate income may stall as people slow in paying their levies, body corporate expenses don't. Bodies corporate usually have very little discretionary spending in their budgets. As a simple example, insurers are hardly likely to discount their policies when they come up for renewal over the next 12 months because of what is happening now. Levy holidays won't work for that reason. Not dealing with the financial issues now as they arise may just mean kicking the can down the roads for six months and having an issue then.
Bodies corporate have not come up for any direct form of government relief and may not get any. That means committees are going to be left to navigate on their own.
We've tried to capture what we think are the main financial points in this matrix for Queensland bodies corporate. We've not cited sections of legislation here, even though all these points originate from legislative provisions –instead, we've kept it very high-level: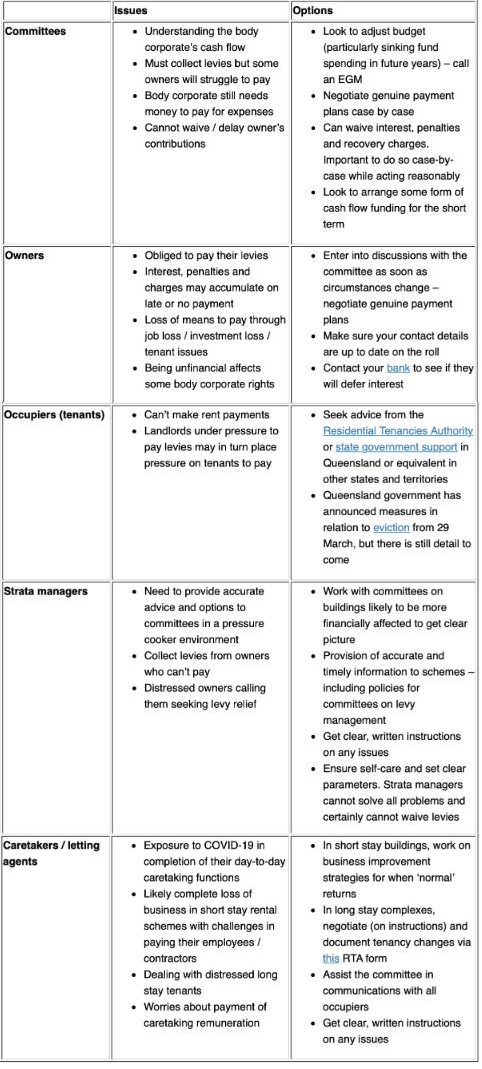 Regardless of which of the above categories you fall into, here's what we think are the key issues:
Communication: start discussions early. Get the issues on the table and start a dialogue. Show respect and compassion, particularly respect for privacy. Keep appropriate notes. Explain why things are happening to those affected.
Seek qualified advice: from government, legal practitioners, accountants, brokers and whomever you need to –just make sure they are qualified to provide the information you need to make good decisions.
Act within your boundaries: know your role and what you can and can't do. Be clear in communicating that and confirm your understanding with other parties you deal with.
Be reasonable: in Queensland, bodies corporate must act reasonably. This varies according to each situation but can mean things such as not adopting a blanket policy without considering the specifics, or not simply refusing a request without good reasons for doing so.
Take action: at some point you will have to take action. Don't be afraid of decision-making, especially if that is your contracted or legislated obligation. If you need to initiate proceedings, do so knowing you have exhausted other options to resolve the situation.
Be flexible: These challenges are unprecedented and ever changing. Retain the ability to adapt as things evolve.
Find the silver lining: What could you do now that would otherwise be disruptive? We are talking to some body corporate clients about accelerating building works in short stay schemes to take advantage of the lack of guests.
Make sure you thoroughly investigate what financial options might be available via the various financial assistance measures that have been announced. Click here for the Federal Government and here from the Queensland Government.
Hynes can provide you with advice around all of these issues. We take an holistic, pragmatic view to strata issues and, at this time of uncertainty and stress, that approach is more important than ever. Body corporate legislation does not deal with pandemics. If you want more detail about issues other than what we are seeing with levies, you can look at some of our Facebook live chats.
This content was prepared by Frank Higginson, Partner and Chris Irons, Strata Adviser, with Hynes Legal. You can reach us at frank.higginson@hyneslegal.com.au or chris.irons@hyneslegal.com.au or (07) 3193 0500 to discuss for your circumstances.